Ace of Pentacles for Prosperity
We need to mentalize the energy of The Ace of Pentacles! 2020 has been a puzzling year, not only because of a health pandemic but also because many of us have to reinvent ourselves in how we manifest sustenance. Unemployment rates are up, and the world economy went upside down.
Therefore, a sound tarot card for us to concentrate now and harness its energy is the Ace of Pentacles, the minor arcana card that Capricorns love to get in their readings!
The Ace of Pentacles Meaning:
Also known as the lucky card, the ace of Pentacles brings promises of fruitful entrepreneurship, a new job, or anything related to our material support in life.
If you know someone is going through a challenging "pentacles" moment, presenting this person with this card is a wish of prosperity and good fortune.
The Ace of Pentacles also symbolizes wealth, not just for your bank account but also in a holistic sense.
"Prosperity tries the fortunate, adversity the great". 
Rose Kennedy
The Ace of Pentacles Socks:
Labor day is on the corner, and to make the most of this event, we are launching our New Ace of Pentacles Socks.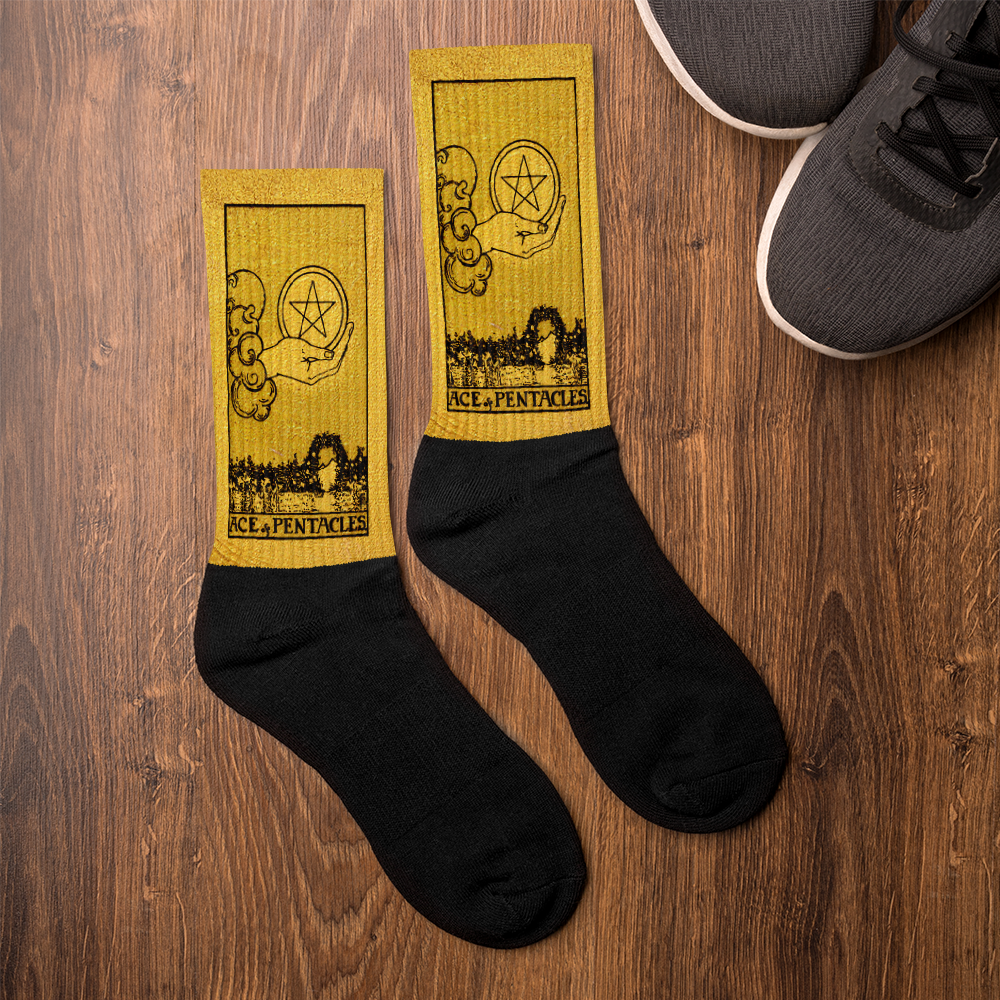 They are meant to remind anyone going through a period of financial transition that the universe will support you. Your angels and spirit guides will never abandon you.
Listen to your intuition, and you'll find the path of prosperity and success again.
"A jest's prosperity lies in the ear
Of him that hears it, never in the tongue
Of him that makes it."
- William Shakespeare, Love's Labour's Lost
How to make the most of your Ace of Pentacles Socks:
To potentialize your Ace of Pentacles Socks:
Infuse it with Muladhara incense or essential oils;
When you are dressing your Ace of Pentacle socks, mentalize the mantra "Lam" to open your root chakra; and 
Mentally repeat to yourself: "I am safe; I am grounded."
As a token of Apollo Tarot best wishes, only for the week after the Labors day, we will be offering the Ace of Pentacles Socks with a 20% discount.  Type LuckyLabors at checkout!
Many Blessings 🙏🏻.
"I made a resolve then that I was going to amount to something if I could. And no hours, nor amount of labor, nor amount of money would deter me from giving the best that there was in me. And I have done that ever since, and I win by it. I know."
 - Harland David Sanders (Colonel Sanders)